Buy vs. Lease | Harlingen, TX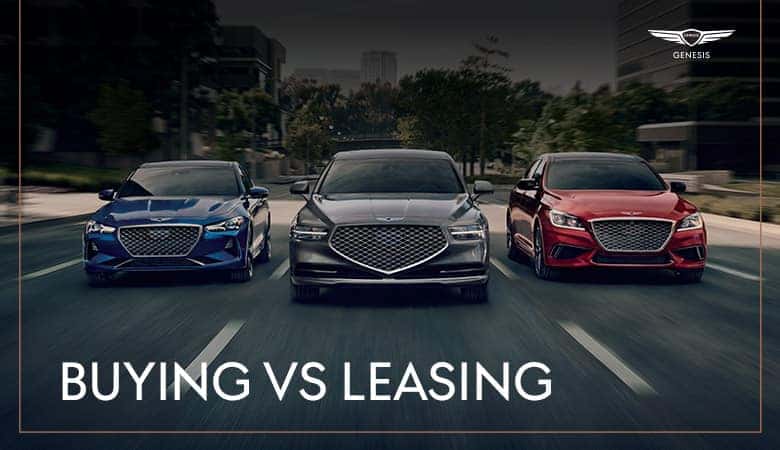 Are you in the market for a new luxury car or SUV? You can visit Genesis of Harlingen for a test drive, or simply order yours online using our Express Checkout with at-home delivery.
Have you selected your preferred Genesis model but not yet settled on whether you want to buy or lease? Explore the benefits of each option below:
Buying a Genesis
Buying comes with its own unique advantages. For example, though you will pay more (including a large down payment and then monthly payments over several years), the vehicle is yours to keep for as long as you like. That means, after you have paid it off, you can continue to drive it without worrying about monthly payments. Just remember that the older the vehicle becomes, the more likely it is to require costly maintenance and repairs.
Buying also means that you can later sell your vehicle privately or use it as a trade-in toward a new vehicle purchase. On top of that, buying gives you the freedom to drive as many miles as you would like and to customize your vehicle with aftermarket accessories as you see fit.
Leasing a Genesis
Leasing can also be beneficial. Since you are not paying the full price of the vehicle but instead just the difference between the current value of the Genesis and estimated value at the end of the term, your monthly payments are considerably lower. You also don't need to sweat expensive maintenance and repairs, as the vehicle is under warranty for the duration of the lease.
At the end of the lease term, simply return the vehicle and pick a new one to lease. This means every few years, you can get behind the wheel of a new model with updated technology for safety and entertainment — and it's all hassle-free.
---
Discover which financing option is right for you at Genesis of Harlingen in Harlingen, Texas.