Genesis G80 & G90 Earn AutoPacific Awards | Harlingen, TX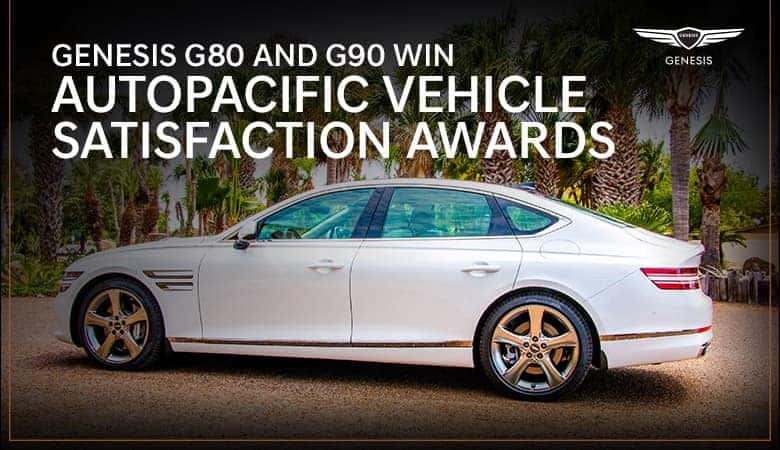 This summer, AutoPacific announced the winners of its 2021 Vehicle Satisfaction Awards (VSAs). This marks the 25th year for this award, which looks at how satisfied consumers are with their vehicles based on their own ratings early on in their ownership.
This year, two Genesis models — the Genesis G80 and the Genesis G90 — earned the top rank in their segments.
How AutoPacific evaluates vehicles
As part of its process, AutoPacific reviews survey responses from nearly 90,000 new car and truck owners. These surveys objectively measure satisfaction with new vehicles in 36 core areas, including usability of features, seating comfort, driving performance, and interior design.
"Our VSAs give consumers true, unbiased insight into which vehicles are providing their owners with the most satisfying experience," remarked AutoPacific president George Peterson.
Genesis G90: Premium Luxury Car
The Genesis G90 earned top marks in the Premium Luxury Car segment. Overall, drivers gave it a 4.8 out of 5.0 rating in satisfaction. In fact, the G90 scored higher than (or equal to) any other car in this segment in 31 out of 36 of the tested attributes. Among its top scores are ride comfort, passenger roominess, interior styling, exterior styling, value, adaptive suspension, and available all-wheel drive.
Genesis G80: Executive Luxury Car
But it wasn't just the Genesis G90 that earned driver praise. New Genesis G80 drivers also reported being very satisfied with their purchase. Overall, the Genesis G80 earned the highest score in the segment, at 802 overall.
That includes a perfect score for styling and braking, as well as near perfect scores for advanced safety technologies, as well as quietness and comfort. In addition, drivers ranked the Genesis G80 favorably thanks to the easy-to-use center touch screen, as well as the luxurious craftsmanship that defines the styling of the executive luxury car.
Contact Genesis of Harlingen in Harlingen, Texas, to learn more about the Genesis G90 and Genesis G80.
---