Genesis G80 Is the Best Upper Midsize Premium Car in Initial Quality Study | Harlingen, TX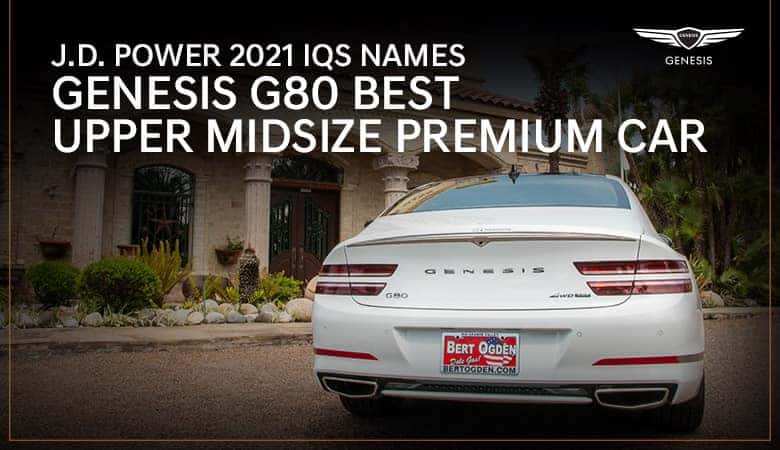 Each year, J.D. Power conducts a study to determine which new vehicles offer the highest quality right out of the gate as part of its Initial Quality Study. For the 2021 Initial Quality Study, the 2021 Genesis G80 was the highest ranking model in the Best Upper Midsize Premium Car category.
You can test drive and purchase the new 2021 Genesis G80 at Genesis of Harlingen in Harlingen, Texas.
Moving Up the Ladder
Last year, the Genesis G80 ranked number two in the 2020 Initial Quality Study. We're very proud (though not surprised) to witness the G80 make the climb to its well-deserved spot at the top.
"At Genesis, we put the customer at the core of everything we do," said Tedros Mengiste, Executive Director of Sales Operations at Genesis Motor America. "We design and engineer our products with the utmost care for how they will suit the needs of our customers' lifestyles. We are pleased that consumers surveyed in the United States continue to respond positively to the exceptional quality and craftsmanship of our latest models, including the all-new 2021 Genesis G80."
How the Initial Quality Study Works
So how does J.D. Power determine which vehicles in each segment offer the highest initial quality? The experts at J.D. Power rely on raw data regarding the number of problems reported per one hundred vehicles (labeled as PP100). The vehicle in each segment with the fewest PP100s across the first few months of ownership earns the Initial Quality Award for that segment.
Genesis is no stranger to wins in the Initial Quality Study. The brand was named first in initial quality overall as a premium brand in 2017, 2018, 2019, and 2020. Only Lexus and Genesis performed better than the industry average for premium brands included in the 2021 study.
---
Get a closer look at the
Genesis G80
at
Genesis of Harlingen

in Harlingen, Texas.