Genesis G80: Segment Leader In Dependability | Harlingen, TX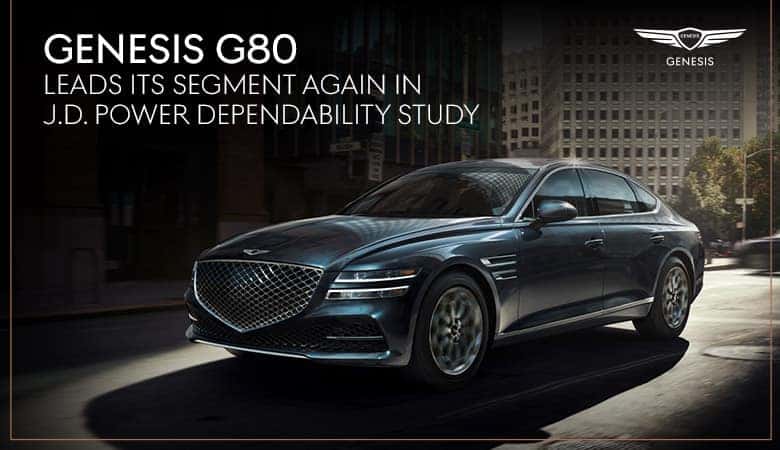 Genesis launched as a brand just five years ago in 2016, which means the automaker only became eligible for the J.D. Power U.S. Vehicle Dependability Study last year, since the study tracks vehicles over a number of years. Despite only recent eligibility, Genesis is on a winning spree in the study.
For example, Genesis earned eighth overall out of 32 brands in the 2021 study. The brand placed fourth in the luxury vehicle-only list.
More specifically, the Genesis G80, a sleek midsize sedan, earned top honors as the Best Midsize Premium Car for the second year in a row — meaning it's won the award the only two years it has been eligible to do so.
More on the study
The J.D. Power U.S. Vehicle Dependability Study traces vehicles over the course of three years to see how many issues drivers encounter. The vehicles with the lowest number of reported issues are deemed the most dependable. J.D. takes this data and represents it as "number of problems per 100 vehicles," or PP100. A lower score means a higher value, and the Genesis G80 had the lowest in its segment.
"At Genesis, the customer is at the core of everything we do," remarked Mark Del Rosso, the president and CEO of Genesis Motor North America. "It all starts with the attention to detail in the design, engineering, and production of our exceptional products. We are pleased that our customers have found G80 to be one of the most dependable vehicles in the industry."
A note on COVID-19
The midsize Genesis G80 is available for purchase at family-owned Genesis of Harlingen. If you are ready to purchase, we encourage you to buy safely online using our Express Checkout option. If you'd prefer to come in for a test drive, please wear a mask and note that we are constantly sanitizing to help keep you, our other customers, and our employees safe.
Contact Genesis of Harlingen in Harlingen, Texas, to learn more about the Genesis G80.
---