Genesis G90: AutoPacific® Awards Spotlight | Harlingen, TX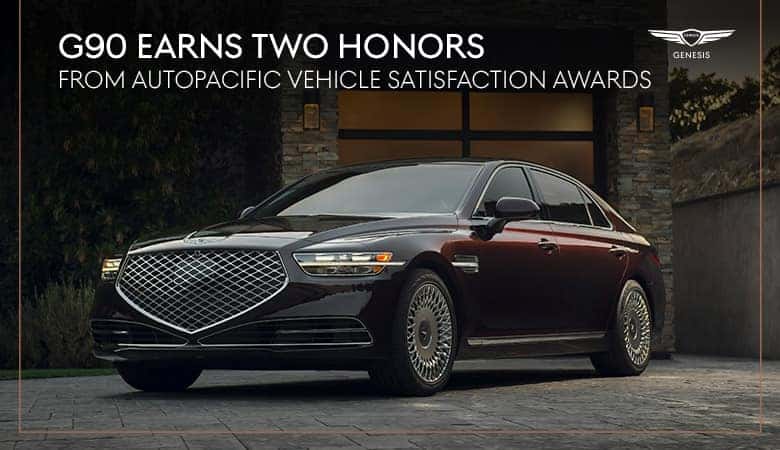 This year, the flagship luxury sedan in the Genesis lineup brought home two major awards courtesy of AutoPacific®. As part of the 2020 AutoPacific® Vehicle Satisfaction Awards, the new Genesis G90 was named the Most Satisfying Passenger Car and the top Premium Luxury Car.
This was no small feat for the Genesis G90. The luxury sedan was up against stiff competition from vehicles from BMW, Mercedes, Lexus, and more. Specifically, AutoPacific® surveyed more than 73,000 drivers of new cars and trucks to get a feel for satisfaction across 27 unique categories. Of these 27 attributes, the Genesis received top marks in 22 for an 81 percent win rate.
So what was it that drivers of the Genesis G90 found to be so satisfying? According to AutoPacific®, drivers valued the power and acceleration of the luxury sedan, as well as its ride comfort and quality, driver seat positioning and adjustability, braking performance, passenger roominess, exterior styling, and even its warranty coverage. On top of that, the G90 is the least expensive vehicle in its class, which makes its superior quality in these and other categories all the more satisfactory.
Despite being a very new brand, Genesis is no stranger to Vehicle Satisfaction Awards. In fact, this is the fourth consecutive year in which the luxury car brand has taken home an award — meaning it has earned an award for top satisfaction in the luxury segment ever since the brand launched in 2017.
"Genesis is still a new brand, but the G90's performance in the AutoPacific® 2020 New Vehicle Satisfaction Survey demonstrates our uncompromising focus on design, engineering and craftsmanship," remarked Mark Del Rosso, President and CEO of Genesis Motor North America. "The G90 exemplifies luxury and exceeds our clients' expectations."
The Genesis G90 received a sizable redesign in 2020, which included active noise cancellation, an engine upgrade allowing for 420 horsepower and a new and improved navigation system.
---
Learn more about the award-winning Genesis G90 at Genesis of Harlingen in Harlingen, Texas.