Road Trip Rundown | Genesis of Harlingen | Harlingen, TX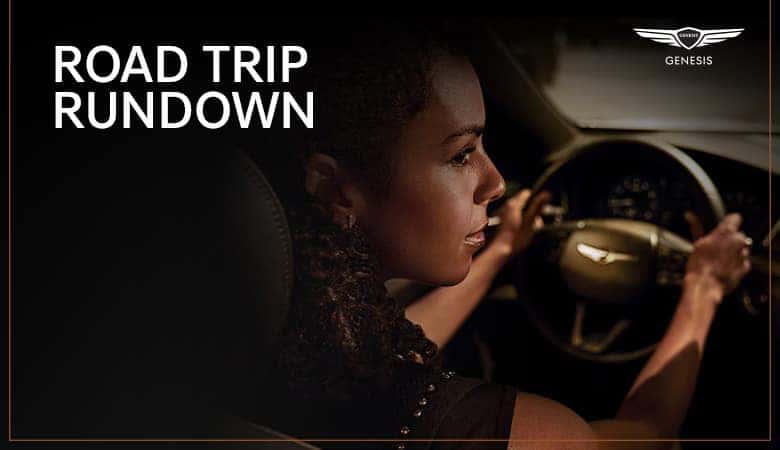 The American road trip is a staple of our country's culture — and it's no surprise, as we have so much to see and do, from sea to shining sea (and beyond). Whether you're heading out from Harlingen, Texas, to explore the rainforest and mountains of the Olympic Peninsula, the magic of Walt Disney World, the busy city streets of New York, the Mighty 5 in Utah, or a tour of bourbon country, there are so many cool places to see on a family road trip. Here is how to make your next road trip a successful one.
Maintenance before you go
You will likely be putting a lot miles on your vehicle during your road trip, but most vehicles typically need an oil change and tire rotation every 5,000 miles. That makes it a good idea to schedule your routine maintenance with Genesis of Harlingen before your trip. That way, you don't have to worry about finding a mechanic halfway through your trip to take care of it.
Healthy snacks to pack
Road trips can lead to a lot of unhealthy gas station snacks and fast food. If you plan ahead, you can pack several healthy snacks (and save money). Pack a big cooler with plenty of ice, as well as some large reusable grocery bags with important staples. Here are some things to consider:
Fruits like apples, bananas, and grapes
Veggies like carrots and broccoli
Trail mix and protein bars
Tortilla chips
Bread, peanut butter, jelly, lunch meat, cheese, and condiments
Bottled water
Don't forget compostable paper plates and recyclable plasticware, as well as trash bags!
Games to play on the go
When boredom strikes, it's a good idea to have some games ready to go. Sure, kids can bury their faces in a phone (or ideally, a book), but if you play interactive games, you can make family memories while traveling between your destinations. Here are a few suggestions:
The alphabet game: Pretend like you're going shopping. The first person says, "I went to the store and I bought apples" (or anything with the letter A). The second person says, "I went to the store and I bought apples and beach chairs" (or anything with the letter B). Continue in this fashion all the way through the alphabet. See how far you can get before someone forgets!
License plate BINGO: Build bingo cards with different states. If someone spots a license plate with that state, they get to mark it off on their card. First one to get five across, down, or diagonal wins. You can swap out license plates with other things, like "red car" or "baby on board sticker." Think of things you will likely see on the road.
Six degrees: Remember the Six Degrees of Kevin Bacon? (You can trace any actor to Kevin Bacon through six actors, in theory.) You can do this with any celebrity. Pick two celebs at random (for example, Steve Carell and Elijah Wood) and then the first person to find a connection between the two wins and picks the next game.
Traveling with pets
When traveling with pets, consider these safety tips:
Do not let dogs and cats roam freely. Keep them in a travel crate or attach their harness to a seat belt; you can find kits at the pet store.
Stop regularly to let your pets walk and relieve themselves.
Do not let pets hang their heads out the window, as their faces can be hit with debris. Dogs should never travel in the bed of a pickup truck.
Ways to save
Want to save money on your road trip? Here are a few tips to make it more affordable:
Pack snacks and meals. Like we said above, this is also a healthier option.
Go tent camping. Campsites are so much cheaper than hotels, and it's a great bonding experience.
Enjoy the great outdoors. Traveling to national and state parks is significantly cheaper than amusement parks, cities, and museums.
Don't go during peak travel season. Gas and hotel prices tend to peak during heavy tourist seasons; these can vary by destination, but in general, any time kids are out of school, things will be more expensive.
Schedule a maintenance check at Genesis of Harlingen in Harlingen, Texas, to make sure your vehicle is road trip-ready.
---