Serving Harlingen, Texas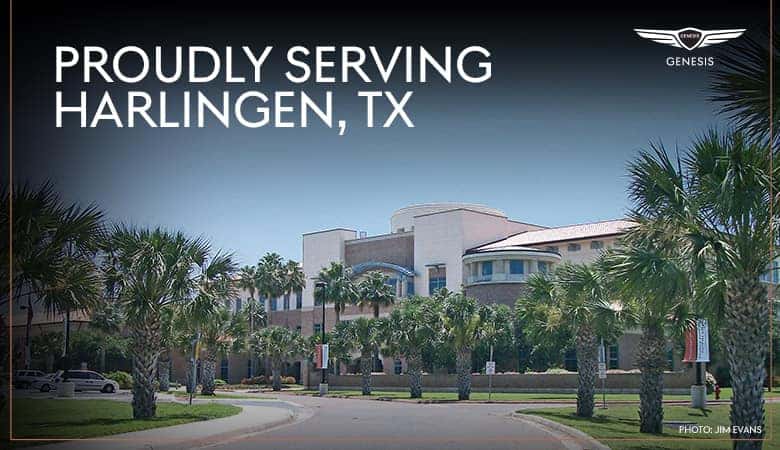 Genesis of Harlingen couldn't be prouder to represent the city of Harlingen, Texas. Found in the heart of the Rio Grande Valley, Harlingen is a quaint gateway to big-time tourist destinations like South Padre Island and Mexico. When you are here, you'll get the quietness and slower pace you love of smaller towns with plenty of big-city amenities to keep you entertained.
Here's just a taste of what you can find in Harlingen, Texas — apart from a great selection of luxurious vehicles at Genesis of Harlingen, of course.
Hit the links
Pack up your clubs in your new Genesis G90 and take a well-deserved day off. In Harlingen and the surrounding areas, you'll have plenty of great spots to play nine holes with your friends — or shoot for a full round of 18 or two.
Right here in Harlingen, you'll find no fewer than five great spots to hit the links. Tony Butler Golf Course is one of the top destinations in town with 27 holes of championship-grade golf. Or you can head over to the Harlingen Country Club, which has been one of the Rio Grande Valley's premier golfing destinations since 1949.
Head downtown
Harlingen may be a small town, but its thriving historic downtown area has the thriving arts and nightlife you'd expect from a much bigger place. Your destination for food, drinks, shopping, and fun, Historic Downtown Harlingen has it all.
One of the highlights of Historic Downtown Harlingen is its vast network of incredible murals. Showcasing the talents of local artists and depicting key moments in Rio Grande Valley History, these murals alone are worth spending an afternoon downtown.
And when you come downtown, you better make sure you bring your appetite. You'll find plenty of great places to visit, including favorites like Colletti's. If you're hungry for five-star Italian cuisine by way of Texas, Colletti's is renowned for its incredible pasta and brick-oven pizza — not to mention a tiramisu that'll knock your socks off.
Historic Downtown Harlingen is also home to some of our city's most popular annual events. From the annual Christmas parade in the winter to the Harlingen farmers market in the fall, with everything from the Jackson Street Classic Car Show and Harlingen Art Night in between, there's never not something going on in the heart of Harlingen.
Get back to nature
If you want to get away from the hustle and bustle of the city, Harlingen opens the door to all the adventure you'll need. Load your tackle box and load into your Genesis GV80 for a day of good fishing. In Harlingen, you're right on the cusp of the Gulf of Mexico, which means you can try your luck at hooking a redfish, tarpon, or a marlin.
If you prefer hunting, Harlingen is right in the thick of the South Texas brush, making it prime territory for bagging big game. The rich ecosystem around Harlingen makes it ideal for hunting everything from white-tailed deer and wild hogs to bobwhite quails and wild turkeys.
Fishing and hunting not quite your thing? Harlingen is also a great place to go bird watching. We're right in the thick of the Rio Grande Valley — a nationally recognized destination for birding and home to the Rio Grande Valley Birding Festival. Around here, you can spot Altamira orioles, tropical kingbirds, and long-billed threshers. There's no better spot around to bring your binoculars than the Harlingen's Arroyo Colorado World Birding Center, which is also great for hiking.
Speaking of hiking, Harlingen is home to more than 1,200 acres of public parks land, including staples like Pendelton Park and Vestal Park. Great for gatherings of all sizes, these parks are perfect places to reconnecting, reminiscing, and forging new memories.
The team at Genesis of Harlingen loves our hometown because this is where we've grown up and come together. We want you to have the best in premium luxury, and that's why we specialize in the exciting, exclusive Genesis lineup. From the award-winning Genesis G70 to the family-friendly GV80, you'll find a great vehicle that gives you the first-class treatment you deserve when you visit Genesis of Harlingen.