Spring Maintenance Guide | Harlingen, TX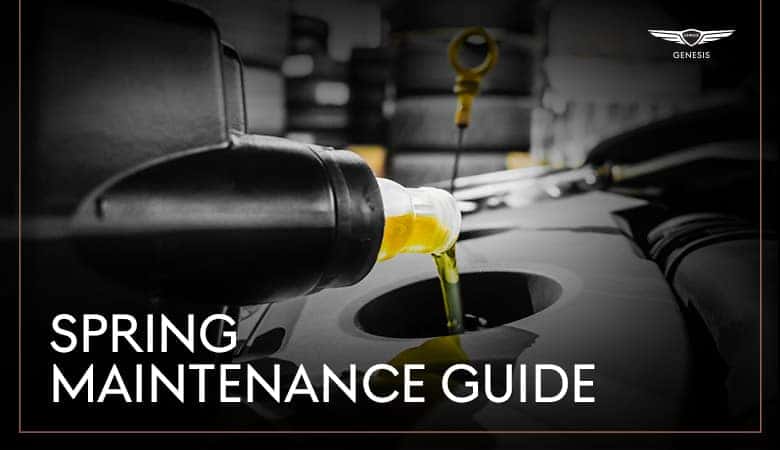 Routine vehicle maintenance is key to keeping your Genesis sedan or SUV running reliably. Your owner's manual details every major maintenance milestone and what service is needed. We encourage you to service at Genesis of Harlingen, where our expert technicians, specially trained to work on Genesis vehicles and with access to genuine Genesis parts, can offer the industry's best service.
Here are a few maintenance items to consider this spring:
An oil change and tire rotation
If you are due soon for routine maintenance, you will need, at the very least, an oil change and tire rotation. Depending on what milestone you are approaching, you may need additional maintenance that our technicians can provide.
A thorough car wash, wax, and detail
Spring cleaning isn't just for your house. Wash away the salt and snow of winter with a professional car wash and preserve the exterior paint with wax. Inside, clean out all trash, vacuum, and dust, wipe all glass, and use a high-grade leather cleaner. If you'd rather save the trouble, you can pay a professional detailer.
Crucial systems checks
After a long, wet winter, it's a good idea to make sure everything is running properly. For starters, check to ensure your tires did not lose pressure. If they did, reinflate to their standard pressure to help ensure heightened efficiency and safe operation. Further, have your battery tested to ensure it still has enough juice to get you through the year. Before it gets too hot out, it's a good idea to test your AC and have your air filter replaced. Finally, spring means lots of rain, so make sure your exterior lights and windshield wiper blades are all operating properly.
In response to COVID-19, our family-owned dealership offers various contactless maintenance options, including key drop-off, curbside maintenance, and car loaners or shuttles.
---
For all your maintenance needs, contact Genesis of Harlingen in Harlingen, Texas.