Summer Vehicle Maintenance | Harlingen, TX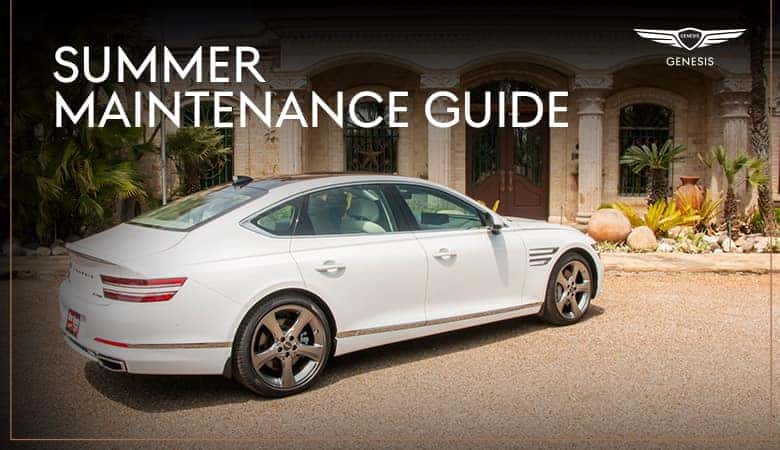 When summer arrives in Harlingen, Texas, you can bet things are going to get hot in a hurry. While you'll want to make sure you're staying cool as you're exploring the Rio Grande Valley, it's just as important that you're taking care of your car — especially if you have a Texas road trip in the books. With proper service and maintenance from the professionals at Genesis of Harlingen, you can be confident that your Genesis vehicle is ready for the road ahead.
Oil and filter changes
Not having enough clean oil or a clean air filter causes your engine to work harder. This can lead to overheating, and it can cause major damage to your engine if left unchecked for too long.
Check your owner's manual to ensure that you're getting an oil and air filter change at the recommended interval. Because the service technicians at Genesis of Harlingen are familiar with your vehicle's needs, we can help keep you on schedule and make sure the job is done right.
Tire health
Hot Texas temps can lead to an increase in tire air pressure. If you drive on tires that are overinflated, it could lead to a blowout. The best way to avoid this dangerous situation is to check the air pressure in your tires on a regular basis.
While you're checking air levels, give all four tires a good once over. Look for signs of uneven wear, cracks, or bumping. You can also see if you have too little tire tread by performing the penny test. Any issues are better dealt with sooner rather than later — Genesis of Harlingen can take care of everything from rotations to alignment to replacement in no time at all.
Have an emergency kit handy
If you're heading out on a road trip this summer, make sure that you're as prepared as possible by having a well-stocked summer emergency kit. Even if you already have a basic kit that includes flares, emergency reflectors, tools, and other supplies, you should take extra steps to make sure it's seasonally appropriate. Think about including a change of clothes — something lightweight, like shorts, tank tops, flip flops, and a change of shoes and socks. You should also make sure you have plenty of fresh drinking water and snacks.
---
When you need help getting your car ready for summer, Genesis of Harlingen is here to help. Our trained service experts will make sure that you can get out on the road with full confidence so that you can focus on enjoying the ride.