The Exciting New Genesis X Concept | Harlingen, TX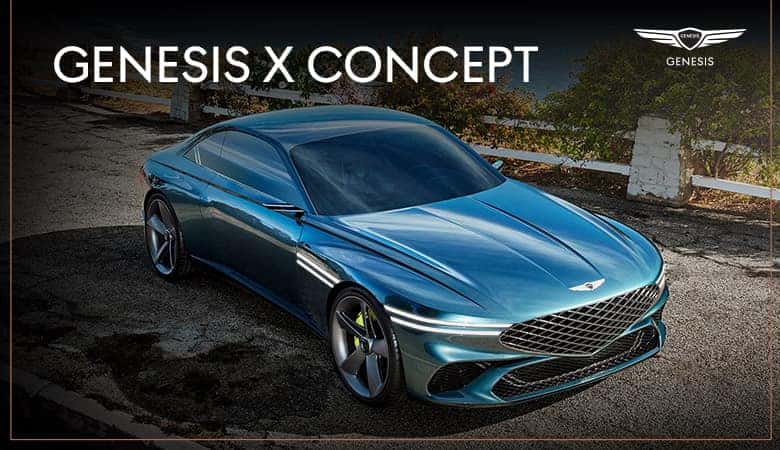 Genesis isn't interested in following trends — the goal is to be out in front leading the charge. When it comes to electric vehicles, the all-new Genesis X Concept shows that the world-class luxury brand is carving a path all its own toward a brighter tomorrow.
The Genesis X is an electric Gran Turismo concept car that breaks all the rules. The brand's fifth concept car is perhaps the most dynamic yet, taking the Two Lines design motif and Athletic Elegance philosophy to their next evolutionary stages. Head of Genesis Global design SangYup Lee says that the X Concept sets the table for how future Genesis cars will look — and that's incredibly good news.
Exterior
Up front, the Genesis X Concept sports a massive Crest Grille, wearing it proudly between dual-line headlamps that run through the front wheel arches along the side of the body. The grille leverages a 3D G-Matrix pattern that gives the Genesis X depth and texture, working seamlessly with a powerful clamshell hood. Together, these elements give the concept an incredibly brash, confident, hard-to-ignore face.
The slim, aerodynamic profile of the Genesis X Concept is informed by its low, wide stance and turbine-type five-spoke alloy wheels. Its bodyside looks smooth, almost seamless thanks to a slide-to-open charging door without parking lines. In the rear, a bold fender and sleek design round out the presentation and make the Genesis X Concept breathtaking from any angle.
Interior
Inside, the Genesis X Concept draws from the Beauty of White Space philosophy, melding form, function, and ergonomics to beautiful effect. The cabin is richly designed, pulling in the Two Lines design concept and using colors like scotch brown and ocean wave green. With sporty bucket seats, the Genesis X Concept begs to be driven.
Genesis of Harlingen couldn't be more excited to see how the all-new Genesis X Concept inspires the cars of tomorrow. When it arrives, you can see it for yourself and experience it firsthand at our beautiful showroom in Harlingen, Texas.
---