Three Good Design® Awards for Genesis | Harlingen, TX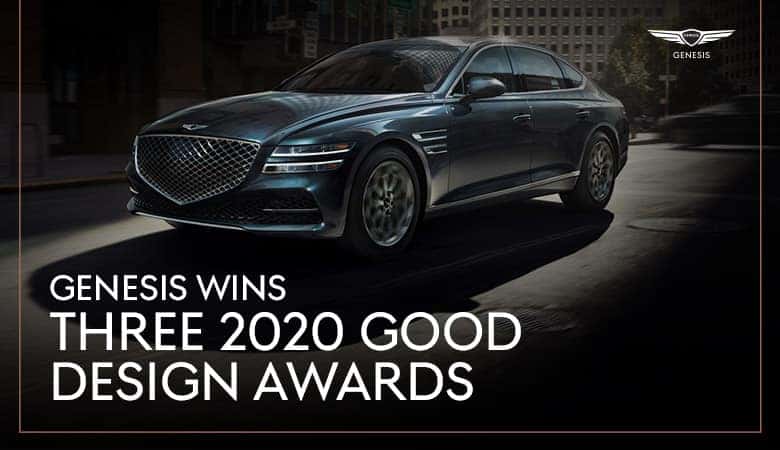 We are proud to announce that the Genesis luxury car brand has earned three distinct 2020 Good Design® Awards for the brand's excellence in design in the Transportation category. Two of the awards went to Genesis models — the Genesis G80 and the Genesis GV80 — while the third went to the Copper Design theme used for the brand's leading infotainment system.
Genesis is no stranger to the Good Design® Awards. In fact, this marks the sixth consecutive year that the brand has earned praise. Specific past winners include the G90 in 2015, the Vision G Concept in 2016, the GV80 Concept and the G80 in 2017, the Essentia Concept and the G70 in 2018, and the Mint Concept and the G90 in 2019.
Two key elements of the brand's design that continue to grab attention are its two-lined quad lamps and its crest grille.
Specifically, the G80 flagship sedan balances athleticism with luxury. Its sporty sedan profile, including a smooth coupe-like roofline, is contrasted with elegant materials on the interior. The interior embraces minimalism with the "Beauty of White Space" design language.
The first SUV in the Genesis lineup, the GV80, is a standout because of its crest grille, quad lamps, and "luxury in space" interior design concept that creates an open feeling inside the SUV's cabin.
The Copper Design theme of the infotainment system is featured in both the Genesis G80 and the Genesis GV80. The infotainment system also earned the 2020 Red Dot Award as the leading Interface Design.
The Genesis G80 and Genesis GV80 are both available at Genesis of Harlingen, part of the family-owned Bert Ogden dealer group. In response to COVID-19, we now offer virtual test drives of both models and highly encourage you to take advantage of our Express Checkout online ordering service, which includes at-home delivery.
---