Tire Safety and Maintenance Tips | Harlingen, TX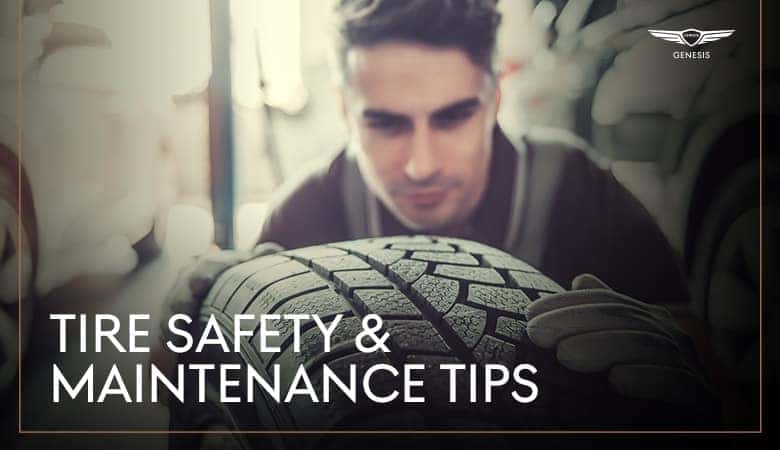 Your Genesis car or SUV has many crucial components: the engine, the transmission, the brakes, and the safety technology. Also crucial, yet so often neglected, are your vehicle's tires.
Follow these tire safety and maintenance tips to help keep your vehicle running smoothly:
Schedule regular tire maintenance
Stay current with tire maintenance by scheduling an appointment at the service department at Genesis of Harlingen. In the wake of COVID-19, we offer various options for contactless service, and we follow all CDC and WHO guidelines at our dealership. Here are some basic tire services your Genesis vehicle may need:
Tire rotation
Tire balancing
Wheel alignment
Regularly check your tire pressure
Your vehicle likely has a tire pressure monitoring system, which you can depend on when your tire pressure begins to drop. You can also be proactive by manually checking tire pressure, especially after a major change in temperature. If you inflate your tires after receiving an alert that they are low only to get the alert again, you likely have a slow leak that will need to be patched. If the patch is not successful, you will need a new tire.
Inspect your tires for signs of wear
The most important thing to keep an eye out for with your tires is tread depth. When your tire treads are near the end of their life, your tires will have a tough time gripping the road, which could lead you to lose traction and slip or spin out. Use the famous penny test to determine if it's time for you to get new tires.
Other signs of wear and tear to watch for include erratic tread wear or a bulge or bump on the tread or sidewall.
While driving, you can feel for signs that your tires may need maintenance. Common signs include a pull to one side or a strange thumping sound or wheel vibration.
---
For all your maintenance needs, contact the service department at Genesis of Harlingen in Harlingen, Texas.