Genesis Promises to Be a Zero-Emission Vehicle Brand by 2030 | Harlingen, TX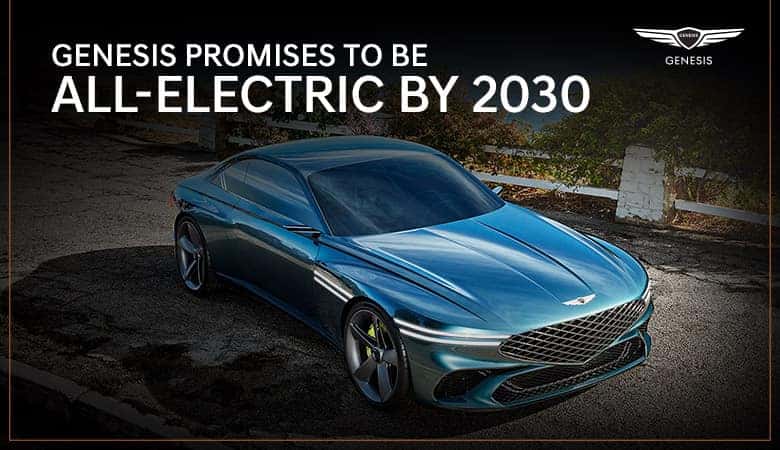 The race to protect the planet from further damages due to human-prompted climate change is on, and automakers across the industry are pledging to do their parts to reduce (or eliminate) their carbon emissions from traditional gas-powered vehicles and less-than-clean manufacturing processes.
Genesis was the latest to join the cause, announcing that it plans to become a fully zero-emission vehicle brand by 2030. On top of that, it hopes to be carbon neutral by 2035. One of the biggest components of this shift hinges on a goal in just a few short years: By 2025, Genesis says that all-new vehicles will be purely electric, whether fuel cell EVs or battery EVs.
A Sustainable Future
"Genesis has been on an intensive, bold and successful journey, successfully establishing itself as a truly global luxury brand," said Euisun Chung. "Genesis is once again at the starting point of another audacious journey — the journey towards a sustainable future."
The Genesis GV60
The Genesis GV60 will be a key player in this transformation of the Genesis luxury brand. The GV60 is the brand's first electric vehicle based on the E-GMP (Electric-Global Modular Platform). The new Genesis GV60 will be available by the end of the year.
Purely Electric by 2025, Carbon Neutral by 2035
Genesis has committed to going all-electric in new vehicles starting in 2025, with some vehicles boasting electric fuel cell power and some boasting electric battery power. Genesis hopes to still manage high power outputs with the fuel cell technology while improving efficiency with new electric systems.
More ambitious is the goal of becoming carbon neutral by 2035. Already, Genesis is evaluating its value chain, from raw materials to vehicles to parts to work sites to production plants. Big changes will be required all around.
"I am extremely excited to announce the new vision of Genesis for a sustainable future as we open a new chapter in our history," said Jay Chang, Global Head of Genesis. "As we continue to design a new dimension of customer experience and build an authentic relationship with our customers, Genesis will take audacious steps to lead the age of electrification into the sustainable future."
---
Learn more about the Genesis lineup at
Genesis of Harlingen

in Harlingen, Texas.